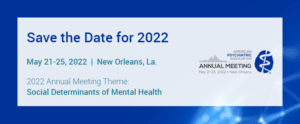 Submissions for the 2022 American Psychiatric Association Annual Meeting must be received by 5 PM EST on Thursday, September 30, 2021. Psychiatrists and trainee psychiatrists who hold APA membership are encouraged to mark their calendars for the upcoming meeting.
Adopting an optimistic perspective on the year to come, the American Psychiatric Association has already announced the date and location of the 2022 Annual Meeting.  As of today, the event is set to run from May 21-25, 2022 in New Orleans, Louisiana.  The theme of the upcoming meeting will be Social Determinants of Mental Health.  Julio Licinio eagerly anticipates the opportunity to convene with his psychiatry colleagues to share related research.  Attendees can anticipate intriguing discussions in the form of general sessions, courses and more activities hosted by the APA.
Julio Licinio is among one of the nearly 40,000 psychiatric professionals who proudly maintain membership within the American Psychiatric Association.