According to research presented by Immuno-NeuroPsychiatry Network of the European College of Neuropsychopharmacology, individuals diagnosed with psychiatric disorders could be at increased risk of hospitalization and even mortality due to COVID complications. Julio Licinio dives into the data: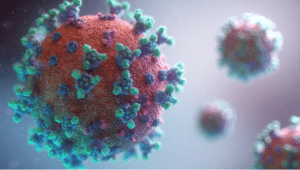 Recently published research in peer-reviewed scientific literature and psychiatry journal, Lancet Psychiatry makes an interesting claim.  Analysis of data from 33 studies, which were conducted across 22 countries and comprising nearly 1.5 million individuals infected with COVID-19, there appears to be a correlation between psychiatric disorders and the virus's impact on a patient.  More specifically, the study suggests that individuals diagnosed with psychiatric conditions, such as mood or substance abuse disorders, are twice as likely to be hospitalized or even die due to COVID. 
In conclusion of the study, the research team urged public health officials to prioritize offering vaccination access to patients diagnosed with severe psychiatric conditions, including mental illness, intellectual disability or substance abuse disorders.