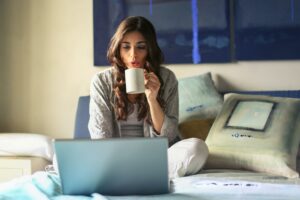 The COVID-19 pandemic and lockdowns forced many people around the world to work from home if they could. Since we have come out of lockdown, many companies have continued this work-from-home model. There are many benefits to working from home, including increased flexibility and no commute time. It also comes with its set of challenges, including loneliness and difficulty separating work and home life. 
Revered for his research, Julio Licinio is a physician leader, scientist, and editor-in-chief of the world-renowned scientific journal, Molecular Psychiatry. Always keeping up to date with recent news in psychology, today he shares 3 mental health tips for those working from home.
Set up a dedicated office space in your home. Even if you don't have a whole room, try and find a corner where you can set up everything you need for a distraction-free and productive work day.

Stick to your regular routine. Wake up at the same time and finish work at the same time, even if your boss isn't imposing a strict schedule on you. Schedule the time you would have spent commuting to do another activity, such as exercising or working on a hobby.

Set boundaries with work. When your work day is over, close your laptop and stop working. Whatever other work you have can wait until your next work day.