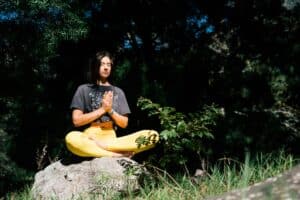 Mindfulness is a powerful technique that has gained increasing attention in recent years due to its numerous benefits on physical and mental health. Mindfulness is defined as the practice of paying attention to the present moment, without judgment. It involves focusing on sensations, thoughts, and emotions as they arise, with an attitude of curiosity and openness. 
In this blog post, we will explore the positive effects of mindfulness on mental and physical health, and provide actionable tips on how to incorporate mindfulness into your daily routine.
What Are The Benefits of Mindfulness?
Research has shown that mindfulness can reduce stress, anxiety, and depression. Studies have also shown that regular mindfulness practice can increase resilience, emotional regulation, and cognitive flexibility. Additionally, mindfulness has been found to improve sleep, immune function, and even cardiovascular health.
How You Can Practice Mindfulness
Meditation
One simple way to incorporate mindfulness into your daily routine is to start with short meditations. Find a quiet space and set a timer for 5-10 minutes. Sit comfortably and focus on your breath, observing the sensations in your body as you inhale and exhale. When your mind wanders, gently bring your attention back to your breath. With practice, you can gradually increase the duration of your meditations.
Awareness
Another way to practice mindfulness is to bring your attention to your senses. As you go about your day, notice the smells, sounds, and sights around you. Pay attention to the taste and texture of your food as you eat. These simple practices can help you develop a greater sense of presence and awareness.
Conclusion
In conclusion, mindfulness is a powerful technique that can have significant positive effects on physical and mental health. By incorporating simple mindfulness practices into your daily routine, you can reap the benefits of increased well-being and resilience.
Julio Licinio is a highly respected psychiatrist and researcher with a passion for improving mental health through scientific inquiry. He has authored numerous publications on the subject and is a leader in the field of psychiatry.